Major rail hub planned south of San Antonio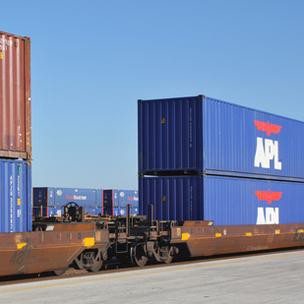 W. Scott Bailey
Reporter/Project Coordinator-San Antonio Business Journal
The Eagle Ford Shale oil-and-gas play has created a seismic shift in economic activity that is reshaping a large and mostly under-developed multi-county region south of San Antonio. Economic experts consider San Antonio the epicenter of that activity, as do developers and companies looking to tap into the boom.
The latest such example is Mission Rail Park, a $12 million development planned near Loop 1604 on a 1,010-plus acre site that straddles the county lines of Wilson and Bexar in southeast of San Antonio.
Two East Texas firms Frontier Logistics LP and Frac Resources are developing the project, which will be anchored by a new rail hub that is expected to spur more economic development in the region. Kyle Kinsel, a partner in Frac Resources, says the companies closed on the land, which is located near Elmendorf, Texas, in December. Work on the project has already started.
Frac Resources will be one of the first tenants at the new rail park. The Houston-based company provides sand used in the fracking process in the Eagle Ford Shale — as well as sales, storage and logistics services — to clients in the oil-and-gas industry. Frac Resources expects to transport some 40 tons of frac sand through the new rail park monthly. Kinsel says developers will look to bring in other companies that also can use the rail hub to warehouse and transport a variety of products.
"We will develop this property for multiple tenants," Kinsel says, adding that talks with some companies are already under way.
Major logistics hub
Frontier Logistics, which has its headquarters in La Porte, Texas, is lead developer for the Mission Rail Park project and will manage its operations, according to Kinsel. The management services company provides supply-chain expertise to clients in a number of industries.
"We like the fact that this project touches multiple counties and is in close proximity to San Antonio," says George Cook, chief financial officer for Frontier Logistics.
Thomas Tunstall, research director for the University of Texas at San Antonio's Institute for Economic Development, says the new Mission Rail Park will provide an alternative for companies engaged in Eagle Ford activity that have to pay as much as $20 per barrel to transport crude by truck. The cost to haul crude by rail costs roughly half as much, according to Tunstall. The new rail park could also lure more non-energy business to the region.
"It could improve San Antonio's positioning as a logistics hub, which would be attractive to companies," Tunstall explains.
"This is not just about the Eagle Ford Shale. It's more about San Antonio," says Kinsel, when asked why Frac Resources and Frontier Logistics decided to develop a new rail park. "We think this will be the major logistics rail hub for San Antonio for the next 30 years."
CBRE, a Los Angeles-based real estate firm that has offices in San Antonio, will market Mission Rail Park. Terry Warth, who is directing those efforts, says developers will look to sell some of the land at Mission Rail Park to companies interested in doing business in the Eagle Ford Shale area — and also to entities that may have no ties to the oil-and-gas industry but are searching for well-placed rail access.
There will be a particular emphasis on companies looking to establish or expand manufacturing operations.
"That's a critical component of this," Warth says.
Stiff competition
The new rail park will have some competition.
Last year, Port San Antonio expanded its East Kelly Railport. The Southwest Side rail hub can now accommodate 20,000 rail cars annually — four times what it could previously. In fiscal year 2010, the railport handled about 2,600 rail cars. In fiscal year 2012, that number doubled.
"The demand has been robust," says Port San Antonio spokesman Paco Felici. Mission Rail Park will have the capacity to handle up to 15,000 rail cars annually. Amir Mortazavi, a consultant for the project, says developers are banking on its proximity to some of the more intense Eagle Ford activity — and to a number of key highways, including Interstate 37, Interstate 10 and Loop 1604. According to UTSA's Tunstall, there is a need for more infrastructure to accommodate growing Eagle Ford activity. "As such, spinoff or support activity in Bexar County has probably not yet peaked," he says.
Warth says officials in Bexar and Wilson counties are supportive of the new rail development but have not yet provided any public incentives.
David Marquez, executive director of Bexar County Economic Development, expects that developers of the new Mission Rail Park will get a big boost from the shale play — which spans 24 counties in South Texas, with San Antonio being the closest major city to the activity. "The Eagle Ford will keep them busy," he says.
But like Kinsel and Tunstall, Marquez believes the rail development could attract plenty of non-energy business as well.
"This is a great project," Marquez adds. "This will resonate with other industries."